>> Saturday, October 2, 2010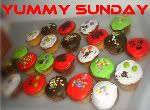 I was happy to find a big pack of Chuckie in the nearby market, we usually bought the big-sized ones in the groceries and supermarkets and my son usually drinks it all even before it's time to go grocery-shopping again, so the nearby market is our remaining source but, almost always, only the regular and small tetra packs of Chuckie is available. So, I was really, really thrilled to had found and bought a big one, hahaha, mababaw lang talaga kaligayahan ko.
I served it with snack-sized packs of Chips Delight and voila, I had a happy and contented son with me on a lazy afternoon.
I forgot how much it cost, sorry... my memory's been lagging these past few months, hahaha...
Ratings:
5 out of 5
(who doesn't love chocolate drinks and chocolate cookies?)